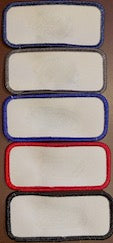 NAME & COMPANY PATCHES
Embroidered name patch and or company patch.
Done in block lettering. Only done on Reed Mfg shirts 
Only available on Reed Hi Visibility Work Shirts.  Factory sown on.
if you want a name patch only order one for each shirt ordered
if you want a name patch & company name order 1 for each shirt ordered
Each patch measures 3 5/8"x 1 9/16" Personal name go on the right.
When the order is place e mail to gulfatlanticsupply.com with your Shopfy order number your name an or company name needed your full name and phone number.