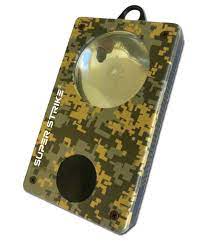 SUPERSTRIKE® OUTDOORSAMAN SSC
If you are heading out to go camping or just strolling around the neighborhood at night you definitely need our SuperStrike to keep you safe. Unlike our firefighter flashlight the Outdoorsman light produces soft white light that will light up the entire forest with it's 500 meter beam throw. The first time you use the SuperStrike you won't believe what you're seeing, you'll think, "wow, how can this little flashlight be so bright!"
No matter if you are hunting, hiking or camping the SuperStrike was built for extreme weather conditions.
500 Meter Beam Throw
One Brightness Level, Turbo
Tempered Glass Lens Cover
1,200 Lumens
90,000 Candle Power
Penetrates Smoke
2 Hours Continuous Run Time On Turbo
Rechargeable
Low Profile, Doesn't Get in Your Way
Protection Circuit
Large Heat Sink for Good Thermal Management
Aircraft Grade Cast and CNC Aluminum Case
Ring on Top for Hanging on Turnout Coat
Shock Resistant and Waterproof
Lasered Cross Hatched Grip
Size 5.3" x 3.25" x 0.9" Thick
Belt Clip and USB Charging Cable
5 Year Limited WarrantySUPERSTRIKE